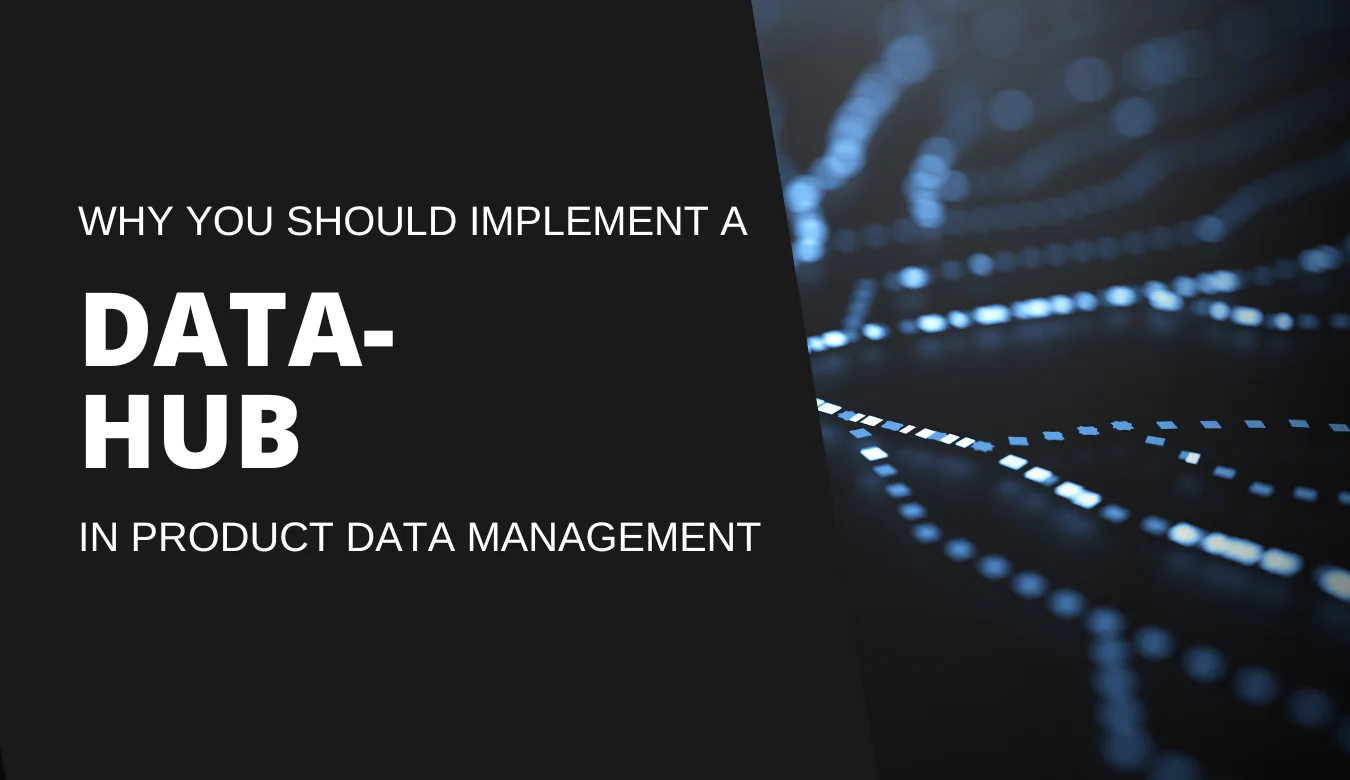 12 Jun

Why You Should Implement a Data Hub in Product Data Management

Effective product data management (PDM) is crucial for businesses, especially in the B2B context.

Wholesalers like REXEL or Sonepar, marketplaces like Conrad, your customers, or even your online shop demand data in various structures and formats from you, be it in BMEcat, with ETIM or ECLASS classification, or as JSON, EXCEL, CSV, FAB-DIS, or DATANORM. Consequently, data serves as the fuel for increased visibility in target search engines (e.g., marketplaces or Google), better listings with wholesalers, and higher sales.

To ensure that these data can be seamlessly exchanged between your internal systems (e.g., PIM or ERP) and external systems or platforms, a data hub in product data management is an indispensable tool.

Discover in our article what a data hub is and why you should implement one.
What is a Data Hub?
A Data Hub can be envisioned as a kind of central hub where data from various sources is consolidated. These sources may include your ERP system, databases, PIM systems, or files.
A Data Hub serves as a central platform for data exchange. With flexible data models, a Data Hub maps, transforms, and transmits diverse data (e.g., BMEcat with ETIM or ECLASS) to various platforms efficiently.
What possibilities does a Data Hub offer?
Due to its immense adaptability, a Data Hub provides a plethora of possibilities in your product data management. A Data Hub can be utilized not only for connecting external entities (such as marketplaces or customers) but also for data exchange within internal systems.
Data Exchange Between Internal Systems
A Data Hub enables easy data exchange between various crucial internal systems. Effortlessly exchange product, order, and item master data between PIM, online store, and ERP using a Data Hub. The Data Hub consolidates and harmonizes data from different internal sources, automatically distributing information to the respective systems for further processing.
Data Onboarding
In addition to internal data exchange, a Data Hub can assist in onboarding external sources (such as supplier data or customer data). It integrates and harmonizes data from sources like a supplier portal, such as the Supplier-Portal. Subsequently, the Data Hub distributes this data to your PIM system, where they are further enriched.
Single Point of Distribution
A Data Hub offers the possibility of being a Single Point of Distribution for your data. In this model, your data is collected, transformed, and forwarded to the relevant recipients in a central system without additional data storage. This ensures that all systems have access to the same, up-to-date, and accurate data. Simplifying the management of your catalog data not only helps avoid errors but also establishes unified data access. This, in turn, leads to a seamless data flow and enhances collaboration among systems.
Thus, a Data Hub complements the PIM, the Single Point of Truth, by serving as a Single Point of Distribution for a smooth flow of high-quality data to the right places.
Omnichannel Sales and E-Commerce
A Data Hub ensures consistent presentation of products with relevant data across diverse distribution channels like eProcurement, marketplaces, and wholesalers. This enables you to offer your customers a seamless and consistent customer experience, regardless of where you distribute your products.
What benefits does a Data Hub offer in product data management?
The numerous potential applications alone underscore the critical role a Data Hub plays in the success of your product data management.
Flexible Data Exchange
In contrast to a rigid interface, a Data Hub is highly adaptable. It allows for quick responses to changing data structures, such as those encountered during a release change in ETIM. Moreover, it facilitates the easy exchange of data between internal systems (e.g., PIM and online shop) and distribution from both internal and external systems. A rigid interface solution would require extensive modification or redevelopment for such scenarios.
Time and Cost Savings
This flexibility enables centralized management and deployment of your product data for all channels, from your own online shop to international marketplaces (e.g., Conrad) and traditional retail. Manual creation and transfer of product data to different channels or Excel lists become obsolete. This significantly simplifies your omni-channel commerce, as well as internal and external collaboration, saving valuable time. Additionally, by implementing the Single Point of Distribution, the time-consuming search for proper data and assortment compilation by colleagues is eliminated. This efficiency is achieved because the organization is solely managed through the Data Hub.
Satisfied Customers and Increased Revenue
By implementing a Data Hub, you can process and distribute product data, such as BMEcat, XML, JSON, or CSV, in a centralized location. Streamlining the creation and updating of product catalogs accelerates market launches and ensures higher pricing accuracy. This, in turn, facilitates the smooth execution of marketing and sales activities. Resulting in a unified, brand-loyal approach, you provide consistent shopping experiences across all touchpoints for holistic customer engagement. This translates into happier customers, improved listing successes, and ultimately, increased revenue.
A Data Hub is crucial in managing diverse product data and systems for efficient exchange. It stands out as a powerful and almost indispensable tool in such scenarios. You might even be considering implementing a Data Hub in your product data management now.
Did you know that our SaaS solution, CatalogExpress, is also a Data Hub?
CatalogExpress as a Data Hub
In CatalogExpress, you can bring together various data from different systems, files, or formats. Combine product data from PIM systems like Contentserv, Pimcore, Akeneo, Viamedici, Crossbase, or OMN in CatalogExpress. Integrate this information with price data and assortments from the ERP seamlessly within CatalogExpress. After a one-time mapping of the data, manually send them via email or SFTP. Additionally, you can provide the data through an interface already stored in CatalogExpress, or configure a REST interface for other systems.
CatalogExpress serves as a Data Hub, enabling the consolidation and processing of data, such as BMEcat 2005 with ETIM.
By facilitating the automatic exchange of information from diverse systems (PIM, ERP, Mongo DB, Shopware) and source files (BMEcat, JSON, CSV, XML, EXCEL, etc.), CatalogExpress streamlines the process. This centralized location eliminates the requirement for additional data storage. This lightens automated exchange on marketplaces, eProcurement platforms, and internal systems.
CatalogExpress as a Data Hub serves as a Single Point of Distribution, ensuring that the data for your customers, wholesalers, and across your internal and external channels are always up-to-date.
If you would like to use CatalogExpress as a Data Hub or learn more, schedule an obligation-free consultation now.
Contact us