14 Mar

Perfect supplier data and simple data onboarding

Are you a trader? Then you surely get sometimes more and sometimes less good or structured supplier data. If you get the data the way you need it, onboarding supplier data is easy and the content can be checked quickly. With our Supplier-Portal, we already have the right solution to digitize such processes efficiently and transparently. In almost every other case, supplier management requires a lot of time, a lot of patience and usually also know-how from several people from your own company and from the supplier. Resources are limited. CatalogExpress helps you with unstructured supplier data and data that you cannot import directly into your PIM or ERP system.

Working with different suppliers brings a need for solutions on several levels. In addition to the general overview (Who? When? What? How? Quality?) documented in the Supplier-Portal, the suppliers themselves are structured and organized differently. This leads to the fact that
The suppliers do not provide the data in such a way that you can import it directly;
suppliers send structured data (e.g., a BMEcat), but you cannot process it in this form;
supplier data must be transformed by you.
Rule-based standardization of each supplier file.
Very often, the handling of information poses a challenge to companies. Supplier data as well as other import files are seldom in exact structure and format as required by the systems. Supplier data and other import files are rarely in the data structure and format as required by the systems. Usually, the data must be prepared and even merged from multiple sources. CatalogExpress brings data together and provides you with a variety of rules and functions for data preparation to get different supplier data onto one schema.
Use different source data, formats, and data structures: Generic XML or XML formats such as BMEcat or ETIM, JSON or EXCEL files
Unify data from various sources (including directly from supplier PIM systems such as Viamedici, Pimcore, Contentserv, etc.)
Merging different sources from one or more suppliers
Supplier data mapping with graphical user interface to integrate even employees with little IT background into the process
More than 60 rules and functions to revise and transform supplier data
Management of a large number of (supplier-related) mappings possible
Benefit summary: From now on you can use any supplier file – no matter the format, structure or number of files.
Flexible import options
After mapping import data for the own systems is before the import into the respective systems. Depending on systems, IT architecture and responsibilities within the organization, various processes are possible. CatalogExpress supports importing directly into your own systems, such as ERP and PIM, as well as manual data handling.
Import automation through API or addressing a Web service into the central systems
Manual download from the generated file for forwarding or processing
Regular and scheduled processes for continuous data updating
Automated file dispatch via mail to the responsible office in the organization
Advantage summary: The mapped supplier data can be transferred via automated and manual channels.
Perfect supplier data management and data onboarding.
Besides the features and capabilities described previously, CatalogExpress is also the perfect integration for supplier management with Supplier-Portal. Using both B2B solutions for onboarding supplier data, gives you an all in one solution. The processes and collaboration run harmoniously and are perfectly coordinated. In the interaction of CatalogExpress and Supplier-Portal, you can work with almost any supplier file – regardless of whether the data is structured or unstructured or does not meet your own requirements.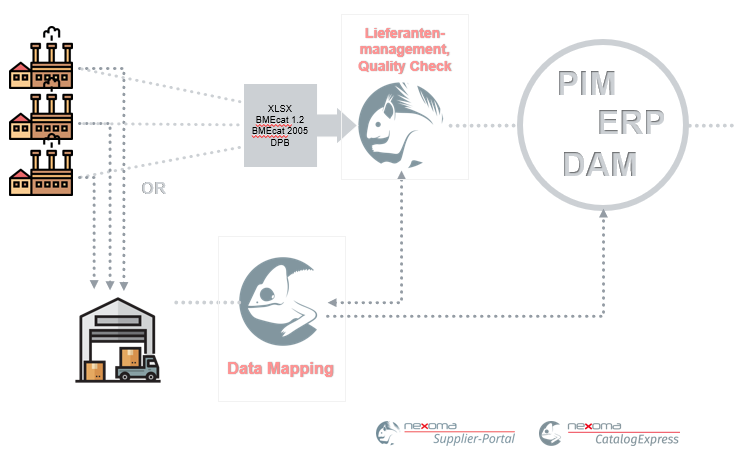 The supplier data are mapped in CatalogExpress to provide a standardized and automated data check in the first place. The Supplier-Portal then performs a detailed data check to ensure that only perfect product data is transferred to your own systems.
Ideal extension to the functions of the Supplier-Portal
Mapping and editing in CatalogExpress of supplier data that doesn't match your own expectations
Suppliers with good data manage themselves in the self-service Supplier-Portal
Uniform and standardized processes for all supplier data – regardless of quality, format and data structure
Comprehensive and detailed review of all data
Overview of the onboarding process: Who delivered which data, when, and in what kind of quality?
Benefit summary: You can respond to every supplier data delivery and find a solution that uses uniform processes in data onboarding despite the many different circumstances.
From import to export: PIM nearby processes always on track
CatalogExpress can perfectly help with mapping and preparation of supplier data. The B2B software helps to deal with any type, quality and file format of suppliers and to optimize data onboarding.
Users who handle imports and supplier data mapping with CatalogExpress quickly realize the further benefits: data syndication use, feed management and as an export data hub for all channels including marketplaces, eProcurement platforms and customer portals.
Want to know more about one of your benefits? Are you missing a feature or information? Would you like to get to know CatalogExpress?
Feel free to book a short appointment with Fabian Fischer right here to get to know more details.