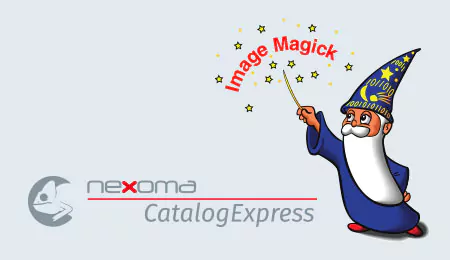 24 Nov

ImageMagick connected to CatalogExpress

Customer-specific product data in electronic catalogs such as BMEcat or Excel format play a decisive role in every successful sales concept. Collecting the data from the various source systems is sometimes a real challenge.
Our CatalogExpress tool offers the solution:
CatalogExpress collects the data from the various source systems, checks them and prepares them according to the specified requirements of your customers. This enables you to create individual electronic catalogs for all your customers. But wouldn't it be even more practical if not only the product data, but also the corresponding images could be automatically provided as individually as your customer requires?
We asked ourselves this question together with our customer HellermannTyton – and found a solution! The solution is called "ImageMagick". It is a free software package for creating and editing raster and vector graphics. Besides the dynamic generation of images, it is also able to read, modify and write more than 100 of the common image formats like PNG, GIF, JPEG. We took advantage of this feature and connected ImageMagick to CatalogExpress. Now it is possible to collect product data as well as images from different source systems and prepare them exactly the way you need them for your customers. If you have further questions, please contact us!
The Imagemagick logo is licensed under the ImageMagick License: https://www.imagemagick.org/script/license.php