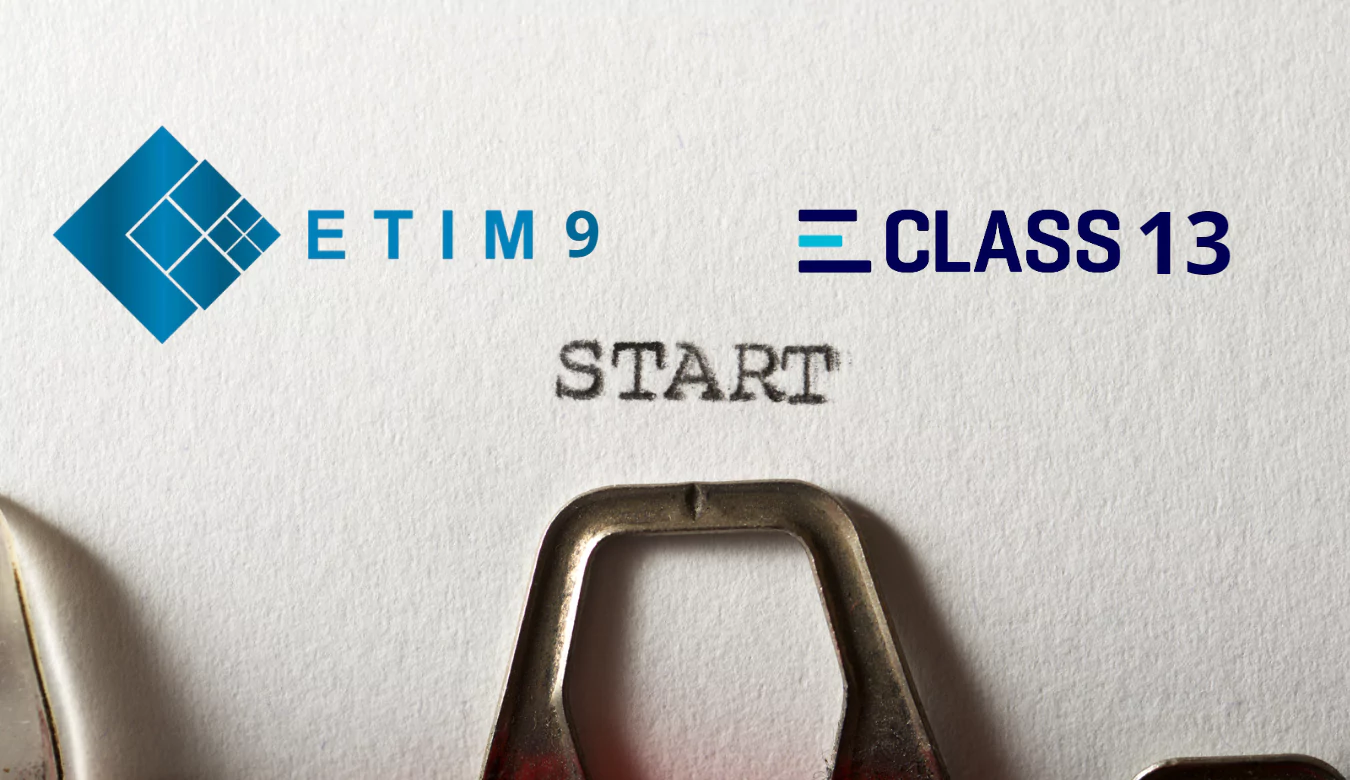 23 Jan

ETIM 9 and ECLASS 13 are released!

Classification models are on the move. ETIM and ECLASS are now available in versions 9 and 13. In ECLASS 13 alone, 200,000 change requests have been incorporated; in ETIM 9 it has been "just" 5,000. Find out everything you need to know about the release and future developments of ETIM and ECLASS in our current article.
ETIM 9 is here
ETIM 9 is available since December 05, 2022 and the content can be downloaded in XML format or also as EXCEL and CSV. The English version can be found in the download section of ETIM International. All other languages can be requested in the local ETIM offices, but version 9 is currently only available in English or German. Other languages will follow soon.
ETIM-Germany publishes in ETIM 9 also for the first time the complete ETIM model with all 5 sectors (electrical, SHK, WEBA, building materials, shipbuilding).
Changes in ETIM 9
4879 changes have been considered in ETIM 9. Many of them are very small. However, there are also some ETIM classes that have been completely removed or restructured as well.
A total of 203 new classes have been added, so that ETIM 9 has a total of 5,554 classes.
How exactly the ETIM Classes, ETIM Features and ETIM Values have changed compared to ETIM 9 in your sector is shown in the following statistics:
Sources:
https://www.etim-international.com/new-release-etim-9-0-available/
https://www.etim-international.com/new-release-etim-8-0-available/
In the sectors, the number of Classes, Features and Values have increased except for the Tools sector. Please note on the statistics that the ETIM classes and thus both Features and Values are assigned to multiple sectors. Therefore, the sum of the sectors does not match "All Sectors".
Change from ETIM 8 to ETIM 9
For the change from ETIM 8 to ETIM 9, ETIM member companies receive a mapping table. Currently, this is available in the simple version V1 and contains a comparison of ETIM 8 to ETIM 9 (which contents were removed, which contents were added, which were changed).
In the coming weeks, an extended version V2 will also be available. Information about the exact successors of ETIM Features and ETIM Values are described there.
You can request information about the mapping table from us and we will also provide you with technical support for the changeover to ETIM 9. Contact us without obligation!
Future development of ETIM
Changes in the market go faster and faster. Therefore, ETIM International recently stated on its website that two years for a new ETIM release would probably no longer be sufficient in these times and that the interest in an ETIM API and dynamic releases would also increase. So it remains tense how ETIM will develop in the future.
ECLASS 13 is available now
The international data standard ECLASS releases a new version every year. ECLASS 13 has been officially available since mid-December. 200,000 change requests from industry and commerce have been considered for the new version.
Changes in ECLASS 13
In ECLASS 13 there are approx:
1050 new classes
300 new blocks
3800 new characteristics
600 new values
Furthermore, in addition to many enhancements in the subject areas, partial models for administration shells (Asset Administration Shell) are provided for the first time in version 13.
These partial models are helpful, e.g., for digital type plates of your products or for transfer documents of complete industrial plants.
The topic of ecology is also given a higher priority in ECLASS 13. In the future, important structural elements will be available to map product-related information on the Product Environmental Footprint or Product Carbon Footprint. These two topics will play an important role in your product data management in the future, as the government is gradually imposing reporting requirements in this area.
Do you need help switching to ECLASS 13 or ETIM 9?
Then we will be happy to support you. The best way to do this is to send us a BMEcat with ECLASS or ETIM or alternatively a CSV file. You will receive an analysis of your data from us. There you can quickly and easily see which product data you have to adapt due to the new version. In addition, we will show you whether your product data is correctly maintained according to ETIM or ECLASS or if there is still potential for optimization.
Contact us now without obligation about ECLASS 13 or ETIM 9.