15 Mar

Flexible Product Data Validation

Do you prioritize high data quality in your product data management?Investing in high-quality product data offers numerous benefits. It reduces inquiries and incorrect orders while improving your visibility in search engines and within the ERP systems of key customers such as wholesalers (e.g., Sonepar, REXEL). Ultimately, this heightened visibility can lead to increased revenue. To consistently maintain this level of quality, it's essential to regularly review your product data. With CatalogExpress, you can easily validate the structure of XML files, such as BMEcat, using an XSD file. CatalogExpress provides a variety of strict or tolerant schema files that you are free to use. Additionally, CatalogExpress offers various flexible product data validation options, which you can learn more about in our article
How does flexible product data validation work with CatalogExpress?
In contrast to XSD validation, individual product data validations in CatalogExpress analyze much more than just the validity of the XML structure, as in the case of BMEcat.
This means that you can configure the product data validation in CatalogExpress according to your specific needs to further ensure your product data quality. Customization can be tailored to individual customers as well.
Data recipients, such as Amazon, Unite (mercateo), Conrad, or your respective customers, have different requirements for your product data catalogs.
Depending on the marketplace, target channel, or customer, you can define and check different quality criteria through individual data validation in CatalogExpress. Following the validation, you will receive a comprehensive validation report
How do you create a custom data validation in CatalogExpress?
First, select your data sources within the CatalogExpress interface, such as ERP and PIM systems. Next, determine the target format, for instance, the Conrad Marketplace or any other desired format. The product data validation is fully integrated into the mapping process, allowing you to specify the criteria to be checked for your product data catalog.
Furthermore, CatalogExpress offers the ability to add functions to your data validations with corresponding reporting. For example, one of your data recipients or customers might require you to use the color 'blue' instead of 'sky blue.' You can accomplish this using the 'Replace' function in CatalogExpress.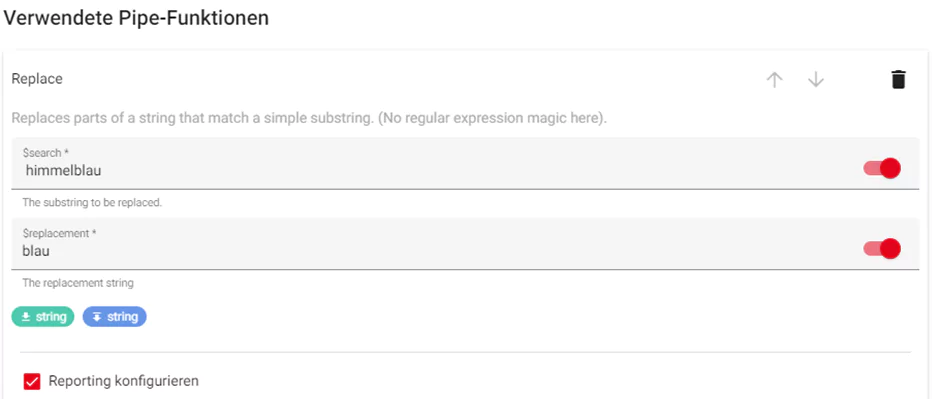 To configure reporting, you can use the 'Configure Reporting' button, which enables you to set up reporting directly for each function. There, you can define the message type, which represents the name of the validation. .

You can also determine the consequences of non-compliance through the Log Level. CatalogExpress offers three escalation levels: 'Info,' 'Warning,' and 'Error.'
In our example, you chose the Log Level 'Info' to indicate that the replacement was made and requires no immediate action.

If you've associated functions with reporting, you'll see a red document icon in the mapping next to the corresponding function.

Furthermore, reporting can also be defined independently of functions, for instance, when using an 'If' function to check if a price has been provided. You can search for 'ReportMessage' in the 'Function Explorer' for this purpose.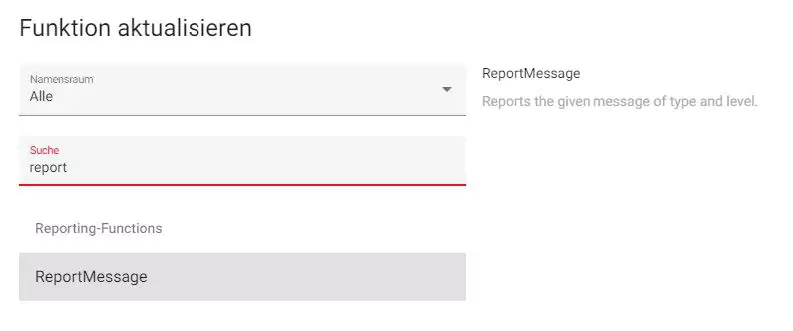 In the 'Else' section of the 'If' function, you can define the reporting to be issued when no price is provided. In your example, the message type is 'No price has been provided for this product,' (German: "Für dieses Produkt wurde kein Preis hinterlegt")  and the escalation level is '4' for 'Error.

How does XSD validation work with CatalogExpress?
Once you've configured individual data validations within the mapping, you can select an XSD validation in CatalogExpress under 'Profiles' to validate your catalog against a predefined XSD schema, or you can upload your own. This allows you to validate your BMEcat according to ETIM classification. CatalogExpress ensures that all ETIM classes have been maintained with valid values and that all relevant features are present.
After setting up these validations, you can initiate catalog creation. In the reporting and logs, you'll find the validations and reporting messages you've defined. You can filter them by 'Escalation Level' or 'Log Levels.'

The 'Message Type' corresponds to the validation name you've set. For 'Info' escalation level, your example indicates the case where 'himmelblau' is replaced by 'blau.'
The 'Message' column is relevant for reporting based on functions and displays the results of the applied function. For instance, in this example, the description has been truncated to 60 characters.
The 'Context' column informs you about the product in question. In the case of the third product in the source, no price was provided. This led to an 'Error' escalation level in the validation report, and the catalog creation process was paused.
You could now update the price in the source and then create the catalog again.
What are the benefits of flexible product data validation?
Higher Product Data Quality:
First and foremost, individual data validation and reporting in CatalogExpress assist in enhancing the quality of your product data. Additionally, high-quality product data also enhances the visibility of your products, leading to better listings and increased revenue.
Reliable Quality Through Integrated Validations:
By integrating validation into the process, CatalogExpress ensures that the defined product data quality consistently reaches customers and target systems. Faulty data is prevented from being output.
Customized Product Data Validation for Each Customer:
You can set up data validation with different quality criteria for each electronic catalog, providing numerous applications. The format of your catalog is irrelevant. You validate BMEcat content, adhere to ETIM standards, or analyze XML and other formats with custom criteria
Additionally, you can easily configure your product data validation and reporting within the CatalogExpress interface without requiring technical expertise.
How to Access Flexible Product Data Validation?
You can already utilize product data validation in the standard version of CatalogExpress 'NEWCOMER'. If you have any questions about product data validation or CatalogExpress, please feel free to contact us for more information."
Termin vereinbaren